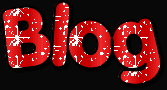 Click HERE to go back to Literature Page
---
We Did It! It's A Brand New Year!
1 January 2019
As I write this, the case is such that 2019 is a brand new year! There is so much to look forward to in this new year... But we have a whole year to do that. Let's instead take a moment to reflect on a year that has passed. This post is a look back to the old year of 2011.

For most of 2011 I was only 16 tender years old, though for the last few months I was 17. Either way, I was a good deal younger than the age of 24 that I finished out 2018 as (and am now).

"I would have been in my junior year of highschool."

Some of my favorite things to do then were play "Tony Hawk's Underground" on my original Xbox, stream the sitcom "[scrubs]" on my Wii's Netflix app, and hang out with friends. In comparison, this new year of 2019 comes fast on the heels of the discontinuation of the Wii's Netflix app. It is also a year in which I cannot find my copy of "Tony Hawk's Underground" for the original Xbox (though I do know where my copy of the Gamecube version is, but it is a lesser version). Also, I no longer know any of the same people I knew in 2011.

In 2011, the average price of a gallon of gas was $3.52. A postage stamp (USPS) ran 44 cents. Milk cost $3.39 for every gallon bought. (source: Google)

Fun fact:
"It would be cheaper to have, in 2011, filled up a car tank with milk than with actual automobile gas."

In 2011, Green Day released a live album called "Awesome as Fuck," which I would have enjoyed but did not buy. Years earlier, I bought their "American Idiot" CD from a Borders Group book and music store. It was - and still is to this day - the first CD I ever bought. Lady GaGa released "Born This Way" in 2011, which I wasn't interested in at the time, but I like it now. Lou Reed and Metallica released an album together in 2011, much to the irritation of the disc jockies at 98.9 The Bear, I remember. 2011 was also the year Alice Cooper released his first album since 1975's "Welcome To My Nightmare." Beyonce released a good album then, as did St. Vincent and Tom Waits. Asking Alexandria also released an album in 2011. I did not listen to it, but I think I saw them live years earlier.

2011 is the year I first went to a movie theater, which sparked a love for the cinema that I maintain to this day. My favorite movie of 2011 was "The Artist," as I was impressed by its Best Picture Award from The Academy. 2011 also saw the release of "The Muppets (2011)" - a sequel to the 1979 classic "The Muppet Movie" - which I liked, but didn't think lived up to The Muppet brand.

"I went to the third floor where the baths are, and I looked at each one. I couldn't find it anywhere, so either I lied then or I am lying now. But think about this: what would I have to gain by lying now? And I already tried to tell you that I wasn't lying before. So what do you believe? Kermit, what do you believe? What kind of a bear do you think I am? Well... It really doesn't matter. Good bye, green stuff. I gotta beat my feet. I'm ankling. I'm like a banana in the presence of ice cream - I intend to split."
- Fozzie Bear from The Muppets

In 2011, Ryan Gosling and Bradley Cooper were heartthrobs. Charlie Sheen said, "I'm a winner." Skrillex lost an entire album after his harddrive was stolen. The Greenbay Packers won the Superbowl. Adobe, Apple, Google, Intel, Intuit, Pixar, and Lucasflm were found guilty of colluding to suppress employee wages. The Oxford English Dictionary added "LOL" and "OMG" to their book. Planking was pretty popular. Women's Docker's pants cost $34.99, ten dollars less than the price of men's Docker's pants. (source: www.pop-culture.us)

There you have it, some recollections of 2011. Oh, what a year. Now we can look forward to this new year of 2019. Let us do our best to make 2019 just as good (or maybe even better!) than 2011. Good luck to us all.

Your Friend,
Matt Lutz
---
Open letter to Jimdo
29 September 2018
"I know, you see, I thought I was just a midwestern fella trying to hang loose in this tight-ass world. But we are never as limited as we believe ourselves to be..."

The website you are currently on is actually the third iteration of the Mattswebpage e-space. The first two Mattswebpages were constructed using Jimdo free website developing service. And they were very dear to me. Jimdo's sleek, user-friendly interface allowed me to custimize and articulate a unique brand personality for Mattswebpage - a personality I've done my best to replicate in this current Neocities articulation of Mattswebpage. But despite all that is so lovely about Jimdo's interface, without any notice, they shut me down twice. First at mattswebpage.jimdofree.com, then at mattswebpage2.jimdofree.com.

The first Mattswebpage took me many hours to complete, and was only online for less than a day. I have no direct information regarding why Jimdo decided to shut me down, I can only infer that it had something to do with me trying to code Minesweeper onto one of the hidden pages. It is the case that the site shut off within minutes of me publishing that code. To me, the correaltion is damning. Here's the thing, I would have been more than happy to remove the game - I didn't have the proper intellectual property clearance to publish it anyways - but Jimdo never gave me that option, and refused to respond to any of the many messages I sent them.

After a month of messaging Jimdo with no reply, I painstakingly replicated Mattswebpage at the Mattswebpage2.jimdofree.com address. Ofcourse, I left out Minesweeper. Still, after a week, the site went offline. This time, I haven't any clue why. I spent months submitting technical support tickets, none of which were ever answered. My efforts culminated in a strongly worded email detailing how I was using their free service only to test their web building interface, which I do love, and had planned on upgrading to a paid membership before having my site crash. I questioned the reliability of their hosting service. I said that I would still consider upgrading if they resolved the issue promptly. This, too, did not get a response.

I have no interest in returning to Jimdo. Neocities has been absolutely dreamy to me and the Mattswebpage brand. But I do implore Jimdo to do the right thing and compensate me fairly for the headaches and heartaches they caused me. Jimdo, it may be too late to win back my patronage, but it isn't too late to compensate me fairly for the headaches and heartaches you caused me.

Below is a screen-capture of the first Mattswebape, originally hosted at Mattswebpage.jimdofree.com.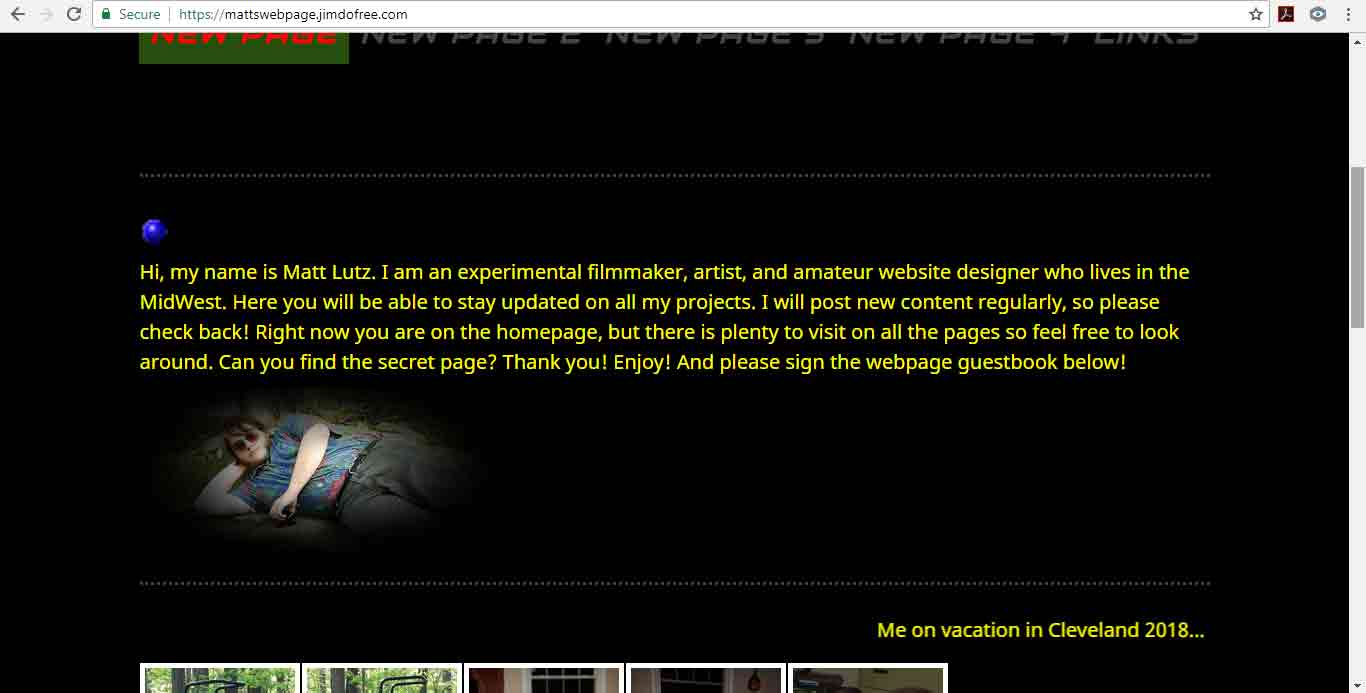 ---
My First Blog Post!
28 September 2018
Welcome to my blog! I am very excited to share my thoughts and ideas with all of you! I will post here sometimes, so feel free to check back often!

Best,
Matt Lutz
---